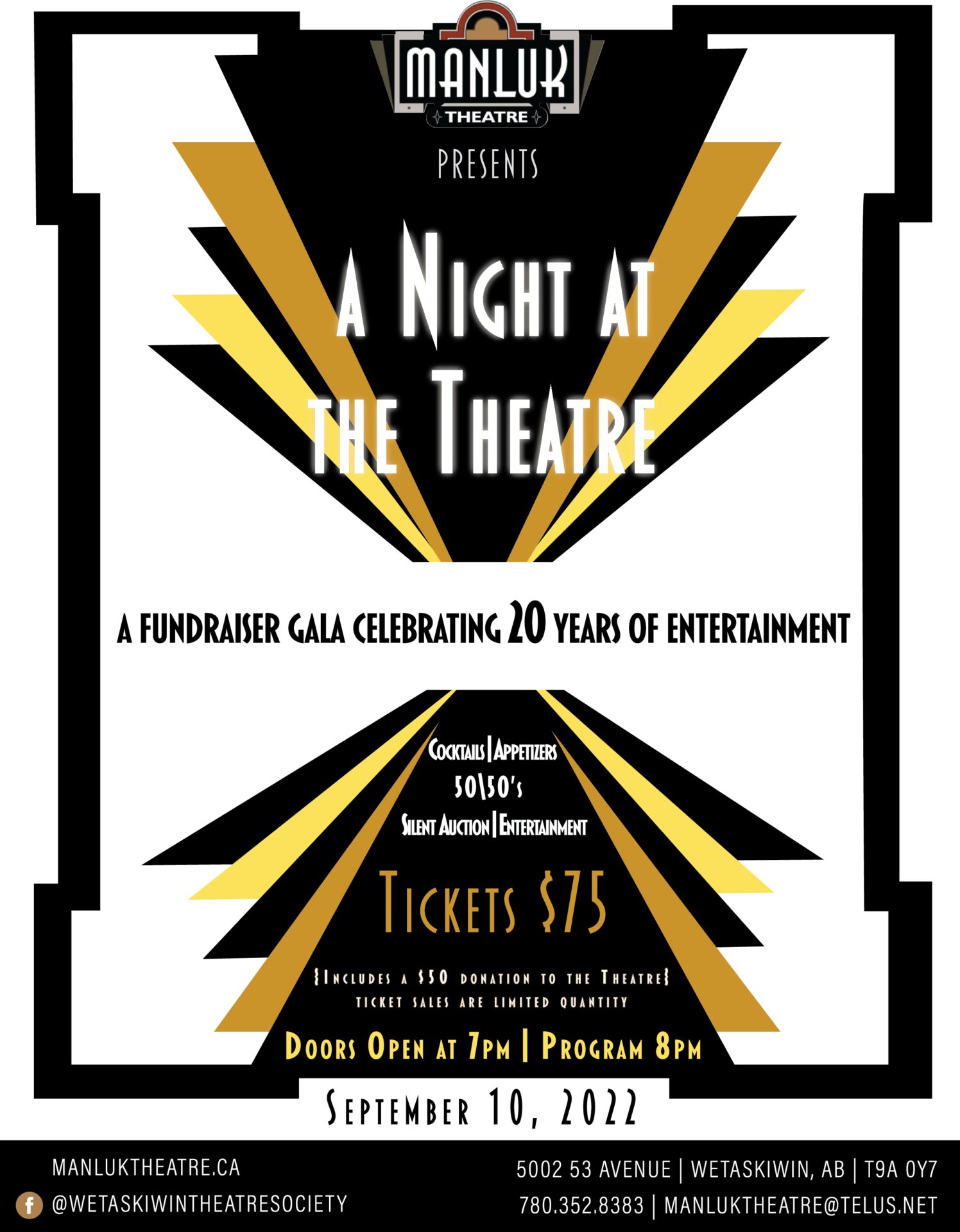 A NIGHT AT THE THEATRE – GALA/FUNDRAISER
This GALA/FUNDRAISER is a very special event to celebrate the success of our own local Community Theatre and the fact that we have been here for 20 years!!!!
The Wetaskiwin Theatre Society came into existence in 2002 and moved into the historic power building we now call the Manluk Theatre for the Performing Arts in 2006!
This GALA/FUNDRAISER will be an evening for all of us to be toasting our fantastic organization, a chance for you to support  a great cause and help us grow.  It will be unlike any other gala you have attended.
We will not serve you rubber chicken, we will not have you sit at a table with strangers,  no, none of that.
We offer you an evening of entertainment THEATRE STYLE!!!
We have prepared a film to showcase where we began and where we are now and how we got here, but wait there is more…  We will have delicious finger food and LIVE music.  We will have awesome silent auction items as well as the excitement of a LIVE auction with an entertaining auctioneer.  But wait there is more…and that is something we can hardly put into words.  We are going to change the skyline of Wetaskiwin on the evening of the GALA/FUNDRAISER.  We will reveal and light up our brand-new theatre Marquee!!!
This is an event you do not want to miss, so come out and enjoy a NIGHT AT THE THEATRE!!
We are so fortunate to live in a city which has a community theatre.  One of our recent arrivals to our city was considering several other rural communities and the deciding factor for her to bring her business and settle in Wetaskiwin was that we have a thriving Community Theatre. 
Having community theatre brings a lightness and joy to what can sometimes be a heavy world. It's a collaborative, engaging outlet where people can get healthier mentally and physically. Then, all of that starts to reflect back into the community at large.
Community Theatre and the performing arts are a valuable piece to every community.
For centuries, theatre has been a way of bringing people together. It has been a place to be entertained, to learn and to connect with one another.
SO COME OUT TO OUR GALA/FUNDRAISER and SUPPORT YOUR LOCAL COMMUNITY THEATRE!
"The stage is not merely the meeting place of all the arts,  but is also the return of art to life."  —Oscar Wilde
Tickets for this GALA/FUNDRAISER are $75 and you will receive a $50 charitable donation tax receipt.  The tickets can only be purchased from the Theatre Box Office by calling 780-352-8383 or sending an email to manluktheatre@telus.net
Doors open at 7pm and the program starts at 8pm.
"COMMUNITY THEATRE STRENGTHENS COMMUNITY INVOLVEMENT AND CONTRIBUTION"
Theatre brings people together, promotes civic engagement and inspires us to stand up and work more as a collective people. It's been shown that those who participate in the performing arts are more inclined to volunteer, remain in good health and be happier with their lives. The more we give community members the opportunity to be entertained, feel connected and enjoy themselves, the happier they will be and the more likely they are to give back and support the community in return.
Theatre and the performing arts can be responsible for helping strengthen people's engagement within the community 90% of people agree that the arts help bring people together into one community from across various backgrounds, and adults who engage in live performances are, 38% more likely to vote and be a part of events within the community or volunteer their time.
Even attending the theatre as an audience member, we are involved in the community spaces through a shared love of the performing arts. And this allows us a safe, welcoming space to learn about things that are happening as well as the issues in the stories on stage, which we can take and apply back into our communities.