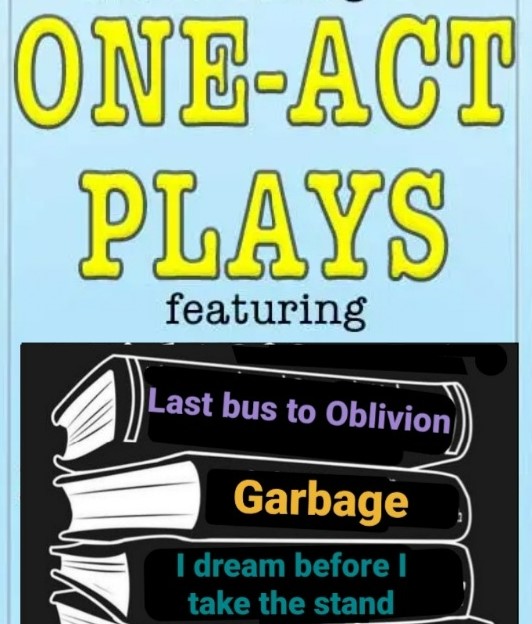 A Collection of One-Acts
Join us as we invite you to a unique experience and offer you three one-act plays of approximately 30 minutes each that are provocative, poignant, and  humorous in equal measure. These three shows are diverse and are great value for your theatre dollar!  The three plays at each show are:
"Last bus to Oblivion"
"Garbage"
"I dream before I take the Stand"
You may be wondering; "What exactly is a one-act play?"
A one-act play is any play with only one act (i.e., the performance is not divided into sections with intermissions). As such, ten-minute plays are a type of one-act play, but most one-act plays are longer (from 15 minutes to an hour). Our three one-acts are all around 30-35 minutes long.
A one-act play has the following characteristics and components:
The story must revolve around, or focus on one event.
The action of the play should move fairly quickly.
The conflict should be clear to the audience.
The characters should be limited to two to seven, with one clear main character.
The one-act play is to the full-length play what the short story is to the novel.
A one-act play is an orderly representation of life, arousing emotion in an audience.
A one-act play is an elaboration of a single, significant incident.
Because the playing time of a one-act is about twenty to sixty minutes, the playwright has the challenge of creating an engaging plot, enticing characters, and resolution to the conflict in a relatively short amount of time.
____________________________________________________________________________________
"LAST BUS TO OBLIVION"
Three strangers meet and secrets are shared while waiting for the last bus home.
Two unsuspecting commuters show up at a bus stop in hopes of catching the last bus home to their destination. The bus stop is frequented by a homeless drunk who encourages the two commuters to follow their inner life aspirations before its too late.
A comedy with lots of laughs.
Run time – 35 minutes.
Director – Maree Okabe.
Producer – Kaitlin Anderson
____________________________________________________________________________________
"GARBAGE"
Three Homeless Drifters find a place that offers little shelter or seclusion. In this One-Act Play these three people are not caricatures of street people; Florrie, Mags and Sniffy are real people who accept their lives with resignation and resourcefulness.
Perhaps tomorrow this area will be closed to them, but for tonight it is a safe place to sleep. Florrie brings left-over pies back from the Mission and it seems that this may be as good as it gets for the three of them.
But this is not like any other night.
When Florrie finds something unusual in the garbage, each character is faced with a moral dilemma.
Throughout the course of the play, the characters reveal something of their past hopes and future fears. A touching reminder to be grateful for the small blessings in our lives.
Garbage is interlaced with a great deal of humour and several surprises.
Drama
Run time – 35 minutes.
Director – Marlee Okabe.
Producer – Kaitlin Anderson.
____________________________________________________________________________________
"I DREAM BEFORE I TAKE THE STAND"
A defense attorney cross-examines a women in a sexual assault case — and in doing so, horribly distorts her perfectly innocent walk in the park.
Drama.
Run time – 30 minutes.
Director – MacKenzie Fisher-Bach.
Producer – Kaitlin Anderson.
Reviews of this play:
"Provocative…"
—Off-Off-Broadway Review
"A feminist classic."
—The List (Edinburgh)
"…a riveting piece of theatre. The writing is pithy and fierce."
—New Jersey Independent
"…David Mamet overtones, but far more sympathy for the female victim enduring a nightmare quizzing than Mamet ever musters."
—New York Newsday
____________________________________________________________________________________